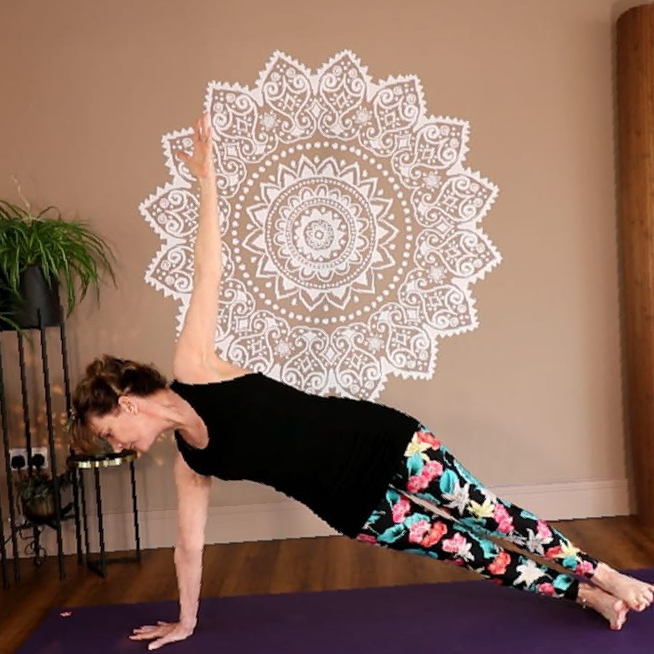 I have always enjoyed exercising, I danced as a child and teenager, I have belonged to a gym for most my adult life ( and actually went )
I found yoga after an injury in an aerobic class, after two years of practice in a gym decided I wanted to know more.
I had a few credits in audible and came across a book called "A Life Worth Breathing" by an American yoga teacher trainer called Max Strom.
His training is based on a series of breathing techniques that alleviate stress, anxiety and calms the mind, I incorporate these in all my classes, learning how to breathe consciously and mindfully can be a game changer.
I studied with him in London and qualified as a yoga teacher 2016. During the course our alignment and anatomy teacher Jamie Elmer awakened the ex nurse in me and I became fascinated in her philosophy of the correct alignment in postures to prevent injury.
This means getting people to understand their own bodies and recognise it's strengths and limitations. Over many years I have been practicing with Jamie who is also a Pilates teacher and learned from her that Pilates exercises can be integrated and even enhance a yoga class, so I am at present completing an online diploma in Pilates and hope to merge these two practices in future. I hope in my classes you will learn how breathe, have a deeper understanding of anatomy, alignment, safe practice and how this all relates to your own individual body.
Wednesday 09:30 - 10:30
Incorpararing Max Stroms' strategic breathing, dealing directly with stress, anxiety and sleeplessness. These proven breathing techniques will leave you feeling calm and in control. In this breath based practise you will go into greater detail learning postures through anatomy and game changing verbal cues. Ideal for experienced yogis and also beginners, ideal for the curious who want to perfect their practise and gain a deeper understanding of anatomy, alignment, best practice and how this all relates to you and your own individual body.
Suitable for all
Good for improving Strength, Body Awareness, Knowlegde & Anixety
Wednesday 11:00 - 12:00
Gentle Yoga for the over 60s + also for those who want to take it just a little bit easier. Bringing movement back into the body with focus on alignment, balance and strengthening exercises to allow us to live life to the full. Inspired by Max Strom we will incorporate breathing techniques throughout to help reduce stress, anxiety & improve your sleep. Maxs' breathing revolutions are renowned and respected for their immediate effect and are beneficial for living a calmer happier life.
Due to the nature of the class we will use chairs, props and cushions for your comfort, allowing you to get the maximum benefit from your yoga practise.
Suitable for all
Good for Improving Mobility, Strength, Balance & Anxiety
Monday 18:00 - 19:00
Yoga Sculpt is a class that incorporates hand weights and closed bands, giving a new dimension to a traditional yoga class. Adding weights to traditional poses and flows pushes your body to engage even more muscles than you would in a regular yoga class. The results, a stronger more toned body with increased bone density to help prevent injury. By working different muscles groups, with added strength training moves, you will gain more stability, building a strong foundation of muscular strength.
Yoga Sculpt is both physically and mentally rewarding. Release those endorphins and discover one of the best and most natural ways to decrease stress, anxiety and therefore increase happiness.
Suitable for all
Good for improving Strength, Tone & Stability