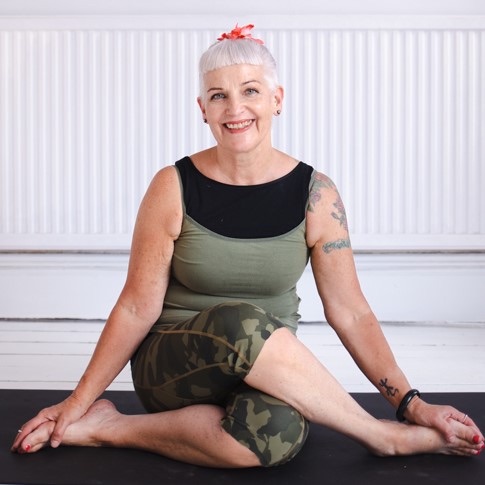 Creatrix - Dancing Warriors Yoga: Yoga Teacher and Therapist
With over 1000 hours yoga training and more than 6 years teaching experience to her name, Gail is accredited as an Experienced Yoga Teacher and Minded Yoga Therapist.
Specifically, in addition to Yoga Teacher Training, she has completed her Yin Yoga Teacher Training and Advanced Teacher Training with Norman Blair, and also The Five Elements (TCM) Workshop Programme with Norman Blair and Kate Henley.
"I am an experienced and dedicated yoga teacher and therapist, and a passionate practitioner. I love to teach and work with students and clients, bringing experiential knowledge and a playful curiosity into my practice. It is my absolute belief that yoga is an embodied practice, and that the real magic happens when we take our yoga off the mat and into our lives. Although I appreciate all forms of Yoga, my first love is Yin Yoga. In this practice, working with the breath, brain, and body, we hold our postures for a longer period of time, so that we can come within to find space and stillness."
Tuesdays 09:30 - 10:30
Yin and yang are in a continual relationship with each other – in life and in yoga. Much of our yoga practice these days can be described as yang; dynamic, active practices which work principally with our muscles. Yin Yoga is the yoga of the other half; a slow, gentle practice anchored into the breath and exploring deep into the yin aspects of ourselves, into the fascial networks.
In this class we take our time to find our edge – our unique expression of each posture – and settle there in stillness for a longer period of time (usually between 3 – 5 minutes). We let go of doing, trying, striving, and release into the space of just being.
Our guiding principles are: softness, curiosity, acceptance, kindness, patience, personal agency, honesty and effort. This is neither a therapeutic or a restorative practice; we are mostly interested in the Goldilocks' principle – finding just the right amount of sensation (not too much and not too little), and then resolving to be still, paying attention to how it feels, and the possibilities that arise over time.
Suitable for all
Good for: bringing balance to the body's systems, and a sense of alert calm to the mind
reducing stress and anxiety.